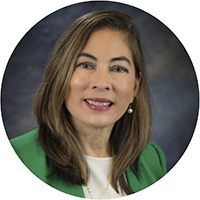 The AAHPM Board of Directors is pleased to announce that Wendy-Jo Toyama, MBA CAE, will begin as chief executive officer of AAHPM on April 15.
"I am delighted Wendy-Jo is joining our outstanding team of professionals who provide excellent service and support to Academy members and customers," said AAHPM Past President Joanne Wolfe, MD MPH FAAHPM. Wolfe chaired the Search Committee. "As the Academy prepares for this transition, the goals identified in the new strategic plan will help set a course for continued growth and an exciting future."
Toyama comes to the Academy from the American Cleft Palate-Craniofacial Association (ACPA), where she served as executive director for 5 years and focused on building collaborative teams, increasing revenue and membership, and establishing a culture of philanthropy. She also provided instruction to orthodontic residents as adjunct assistant professor at the University of North Carolina School of Dentistry and is the chair of the American Society of Association Executives Diversity and Inclusion Committee.
Prior to her work at ACPA, Toyama served as the senior vice president of membership, tripartite relations, and marketing at the American Dental Association, where she led a team focused on membership operations, marketing, dental society support, members' insurance and retirement programs, and diversity initiatives. She began her association career leading marketing and communications with the YMCA of Metropolitan Chicago.
"I feel privileged and honored for the opportunity to serve the Academy and support the vital work you do," Toyama said.
Toyama will replace Steve R. Smith, MS CAE, who has served as AAHPM's chief executive officer for the past 12 years. He will continue as the Academy's CEO until April 15 before becoming CEO of Association Management Center (AMC). AMC, which provides management services to more than 25 professional healthcare associations, has been the home of AAHPM for more than 20 years.