Welcome to the monthly edition of Palliative Care Grand Rounds the monthly review of the best of hospice and palliative care content from blogs. We started in February of 2009 and are almost done with our second full year. To see previous editions of Palliative Care Grand Rounds go the http://palliativecaregr.blogspot.com/.
This summer has been a exciting month for palliative care and hospice advocates. At the beginning of the month we were still taking in all the attention form Atul Gawande's article in the New Yorker titled 'Letting Go.' And then in the middle of August we had the ground breaking research published in the NEJM demonstrating early palliative care improves QOL, reduces depression and potentially can improve survival.
So I thought we could start with blog posts relating to those two big tent poles.
The Gawande Article
People were reflecting on the writing of Atul Gawande and I think there is a lot to learn from how he tells his stories. It may help in how you give a presentation or write articles or blog posts of your own. My favorite was a blog called 'Not Exactly Rocket Science', where blogger Ed Yong writes on 'Deconstructing Gawande – why structure and narrative are important.' Also check out Bob Wachter's blog piece on Atul Gawande and the Art of Medical Writing. He writes:
In this month's piece, Gawande continues to tackle the most important healthcare issues of our day. By doing this with such clarity and beauty, he makes us all a little smarter, wiser, and more sensitive. His writing is a gift.
Debra Bradley Ruder from the GrowthHouse blogs Goodbyes writes on the Gawande article as well.
The NEJM Study
Both Geripal (Alex Smith) and Pallimed (Lyle Fettig) jumped on the NEJM research quickly and provided really helpful insights into the research that you wouldn't get just reading the New York Times or other media sources. Between these two posts there are currently over 35 comments! Several days later Drew Rosielle let the results marinate with him a bit and the result is a tasty dessert highlighting the implications for our field in his Pallimed post 'You had me at improves HRQOL.'
Diane Meier jumped into blogging and wrote a good piece at the John Hartford Foundation blog, that was picked up my the (general medicine) Grand Rounds and got 2nd billing. Many other key blogs covered this as well including:
Other great bits
Each person faces cancer in his or her own way. There is nothing right or wrong about the different approaches people take. Denial or acceptance is not a statement about someone's character. Having hope or not does not always come from an explicit decision to be hopeful; it often just happens one way or the other. Likewise, the spectrum from stoicism and strength to dependence and, yes, even weakness, are reactions that are unpredictable until you are actually faced with the disease. Too, how one feels can change over time — whether minute to minute, day to day, or year to year. So, one thing I have learned is not to be judgmental about how a person responds to cancer.
It is doubtful that a focus on reducing EOL spending per se will result in as much savings as is often assumed, for one simple reason: The concept of the last year of life is inherently retrospective. You do not know when the last year of someone's life started until it ends. The stylized fact that leads to the assumption of wasteful EOL spending., i.e., 1 in 4 dollars spent on care in the last year of life, is based on an inherently retrospective concept that does not translate easily into the prospective decision-making that would be needed to reduce wasteful, futile or harmful spending in the last year of life.
And then I understood. I wasn't crying for him. I was crying for me.

I cried because I couldn't imagine a memorial service for me looking anything like the one for Rob. I cried because I couldn't imagine that twenty people, let alone two hundred, would give up an evening to say nice things about me. I cried because I couldn't imagine that my life, already a lot longer than Rob's, would ever have that kind of meaning and impact. I understood then that my patient's short life was telling me to live the rest of my own life better — to be warmer, and more open-hearted, and more loving.
people—actually mainly men—wished that they hadn't worked so hard. They "deeply regretted spending so much of their lives on the treadmill of a work existence." My wife would say that I work all the time, but I live a life where work and play are not easily distinguished. Is writing this work? It doesn't feel like it to me. Tomorrow I'm off to give a talk at a science festival in the Austrian Alps. Is that work? The truth is that even in the most serious jobs I've always let the appealing (and often frivolous) come before the serious.
Some humor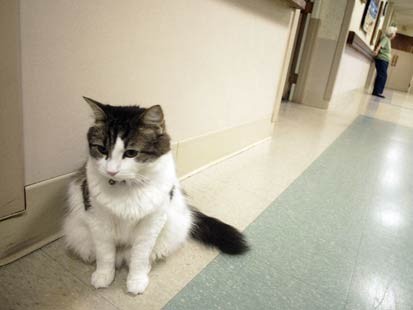 So as you can see there are many people talking about the difficult things people don't want to talk about. We are not alone in wanting to provide good quality care for patients and families facing with life-threatening illness. Sometimes with a little humor is a tough time, sometimes with fantastic insights into what it means to be alive. Go read and support the things that impact you with a comment, Facebook 'like' or email to a colleague.
Check out next month's host the SWHPN blog called palliative-sw. They have a new look!
PCGR has subscription options; you can follow by email or RSS feed. An aggregated feed of credible, rotating health and medicine blog carnivals is also available.