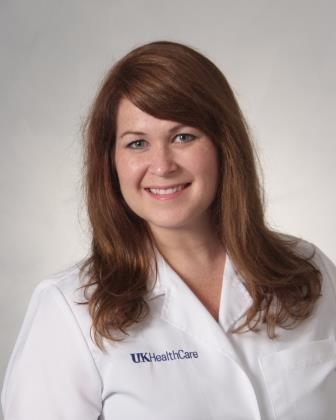 What does it mean to be named an Emerging Leader in Hospice and Palliative Medicine?
I am truly humbled by this award! I feel very grateful to be recognized as a leader in a field that is so innovative.  I have valued the opportunity to be involved in the mission of AAHPM and help support the amazing work that is going nationally.  I also feel that it reflects the all the amazing work that my team has been able to accomplish locally at our institution and in Kentucky, because without teamwork I think I would not have had the support to tackle larger projects.
Describe how you became interested in hospice and palliative medicine and who/what influenced your work.
I became interested in HPM during my pediatric residency after multiple patient encounters in the Neonatal Intensive Care Unit where families were struggling with decision-making and grief. I realized that I had been thoroughly taught how to medically manage patients; however, no one taught me how to respond to family questions about goals, quality of life, and family values. I believed that there had to be a better way to teach physicians how to communicate effectively in these challenging times. Our hospital did not have palliative care at the time, so I stumbled on HPM while researching medical specialties. It clicked with me completely!
The pioneers in pediatric palliative care (Sarah Friebert, Tammy Kang, Joanne Wolfe, Gina Santucci, Gwenn LaRagione, and Chris Feudtner) have had a huge impact on my practice and my professional career and goals. I will be forever grateful for the time that they took to help guide me and their dedication to training the next generation of HPM professionals.
What is your vision for the future of hospice and palliative medicine?
Children with serious illness have a lack of access to palliative care in the United States. We know that the benefit to patients and families is huge; however, we do not have enough providers for the demand. In Kentucky, we have two Pediatric HPM physicians for the entire state. While I have seen growth in teams in the past ten years, there is still a large gap in workforce in all disciplines in pediatric HPM. I hope that the combined effort nationally will result in a change in funding, recognition of the value of peds HPM, and recruitment of more professionals to the workforce. I hope that every child who needs pediatric palliative care or pediatric hospice can have easy access without a financial burden to the family.